Pamper Me 1st Chair Massage Party
Just relax and let me take care of you! Ahh…doesn't that feel better? With a Chair Massage Party you and your friends can enjoy the benefits of massage in a friendly, at-home party setting. You're invited to consider the pleasant idea of a seated chair massage. Chair massage is 10-20 minute massage sessions that leaves you thinking in a new light or attitude of gratitude. Enjoy yourself as you indulge in a seated chair massage.
Chair massage is a style of seated massage that is typically short — 10 or 20 minutes — and focuses on your back, shoulders, neck and arms. Chair massage is done over clothes and doesn't require any massage oil. You are seated in a special chair with your face resting in a cradle, looking down towards the floor, with supports for your arms.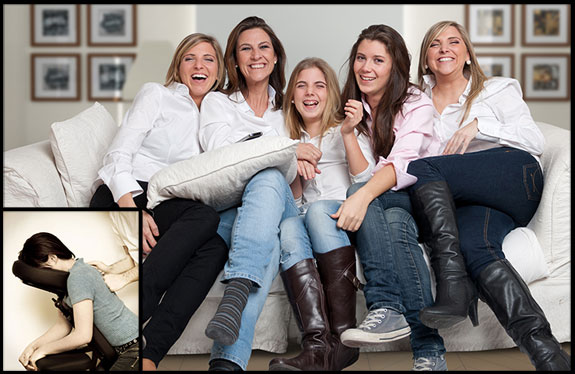 Your back and neck completely relax while the therapist relieves muscle tension using massage moves like kneading and compression and tapotement, which don't require oil. These sessions are convenient, improves morale, facilitates managing stress, boosts your immune system and is also affordable and meaningful. You are left with a relaxed feeling, being at peace, taken to the point of a midday nap…and yes that AHHHH feeling.
Book your own Pamper Me 1st Party Today! Call: (719) 210-4634
There are a few guidelines I would like to share with you before we meet on the day of the party.
There should be no less than five guests, confirmed.
I will do a minimum of 10 minutes of a CHAIR MASSAGE session on each guest. Additional time may be requested up to a maximum of 20 minutes, in increments of five minutes.
I charge a $1.00 a minute for each session…so the total is $10.00 per person minimum and $20.00 per person maximum.
The maximum number participants for a given party is eight. You will need to allow three hours for your party. The time may be shorter depending on the number of participants. Three hours accommodates the maximum number of guests and the maximum amount of time for each participant.
You as the hostess, will receive a FREE 1-hour massage session as a Thank You gift. We will schedule an appointment for you to come to my office after the party. You, as the hostess, will also receive a complimentary footbath massage during the party. One footbath massage session for each party booked from your party…no minimum.
You may book additional parties with others not invited to your party and you will be able to earn additional complimentary services.
For each guest that wishes to host a CHAIR MASSAGE party they will receive a FREE 1 hour massage session after their party, as well as earning additional services.
I will offer coupons and gift certificates at the party.
Each guest will receive a thank you gift for attending.
Bring ahhh back in your life with a chair massage party!